Subscribe to blog updates via email »
An audio version of this income report is available to Patreon backers of certain levels »
September's revenues were $8,327, down from August's $9,115. Profits were $5,585, up from August's $5,459.
More clear income graph
Note that I've made a change to the color-coding of my income graph. I've made the 6-month moving profit dark green, and the actual profit light green. The actual profit is so variable, it's hard to see trends. Emphasizing 6-month average profit makes it more clear how my business is actually doing.
I also noticed some distortion issues due to the fact that the previous graph scaled to above $12,000, and as low as -$2,500. That made the doubling of 6-month average profit that has occurred look like nothing but a wrinkle. So, I've now restricted the top scale to $10,500, and the bottom scale to $0. This causes one month to drop below that $0 scale, but the new proportions give a better sense of profit growth.
Record profits, four months running
This is the fourth month in a row that breaks a number of records. We have new records for total profit, and self-published book profits.
Record 12-month total profits
This four-month streak of record 12-month-total profits started in June, when I reported a 12-month profit of $44,896. This month, 12-month profits are $54,017. That of course makes the 12-month average profit a record, too, at $4,501. At the beginning of this streak, it was $3,741.
Record 12-month self-published book profits
Self-published book profits are also at record highs, for the fourth month in a row. The 12-month total profit from self-published books is $26,879, on record-high 12-month revenues of $51,280. The streak started at $19,814 12-month profit, on revenues of $37,540.
So, the 12-month moving average self-published book profit continues to climb, too. We hit a record high in June with $1,651. That number has gone up each month since, and in September it was $2,240.
Ten years of Design for Hackers!
In September, we quietly passed the ten-year anniversary of the release of Design for Hackers. My life changed on September 14, 2011, when – much to my surprise – Design for Hackers debuted in the top twenty on all of Amazon. I soon after had a solid email list of readers, and experienced the thrill of minor celebrity within a minor niche, speaking all over the U.S., then the world.
I can't help but think I missed an opportunity by not doing more to recognize that ten-year anniversary. It had crossed my mind over recent years to do a second edition – which obviously calls for a lot of lead time. On shorter notice, I could have done an anniversary deal on the video course. But I didn't do any of those things.
It reminds me of some of the guilt I felt over the years for not "juicing" more out of the success of the book. But what I eventually learned was there was a reason I didn't keep banging that drum forever. It's because, as one book's title proclaims, What Got You Here Won't Get You There. The obsessive curiosity I felt for design – and have felt for many other subjects over the years – was what had gotten me "here." The implication of that book title is that to get "there," you have to change (I could be wrong. Never have read that book.)
But I didn't want to change. That obsessive curiosity that got me "here," is the thing I want to "juice." I've since made the pivot into creative productivity at-large, and I'm sure there will be more pivots in the future. Though, one thing I've learned along the way is that explosive success like I experienced with D4H is rare, and I got very lucky. I sacrificed a lot to put myself in a position to be lucky, but I somehow was the right person at the right time with the right message in the right field. I'm glad to have had the experience, and I can only hope I can be so lucky as to have something similar happen at some point in the future.
Design for Hackers royalty payment
Remember, the record self-published profits I've reported are just that – self-published profits. Design for Hackers is not a self-published book. In September, I received one of my twice-yearly payments for D4H: $648. For comparison, one year ago, I got $591, and six months ago, $760. Not bad for a technology book that has now been out ten years!
Digital Zettelkasten audiobook in post-production
Bit-by-bit, I'm getting closer to launching the audiobook for Digital Zettelkasten: Principles, Methods, & Examples. I've recorded the audio, designed the cover art, and just got the first round of edited files from my post-production team. I still need to create the companion PDF that will come with the audiobook, which listeners can refer to for some of the visuals which won't work so well in audio.
Digital Zettelkasten continues to be a hit! $1,864 of this month's $6,409 book revenues – 29% – are from Digital Zettelkasten. I'm excited to see how the audiobook sells!
Self-publishing a winning income category
Looking at the "income by category" graph, you can see how the energy that was once put into generating revenue from the podcast, courses, and consulting, have converted into increased self-publishing revenue. As I've mentioned before, I purposefully started ignoring the former categories to focus more on the latter category, and it's paying off!
Mind Management, Not Time Management hardcover underway!
Now that we're approaching the one-year anniversary of Mind Management, Not Time Management, it seems like a good time to create a hardcover version.
I tend to release my book formats in the reverse order of traditional publishers. They release hardcover, then later the paperback comes out (some authors, such as Tim Ferriss, never release a paperback).
Publishers have totally different resources and economic forces than I do. Launching ebook and audiobook along with hardcover would be nearly impossible. So, I release ebook first, then paperback, then audiobook. Eventually, maybe, hardcover.
I had originally planned to try releasing the hardcover of MMT first. That might have maximized revenue from the big-fan readers who insist on hard-copy books. But, recall I had out-of-stock issues early on for the IngramSpark hardcover for The Heart to Start. So I didn't want to risk that.
A hardcover copy will give super-fans of the book an opportunity to get a sort of "souvenir" edition that broadcasts itself from their bookshelves for years to come. And, royalties will be higher. I earn $7.98 per book from the paperback, and I should earn about $10.58 per book for the hardcover.
After publishing the hardcover of HTS, with dust jacket and IngramSpark's digital cloth, I was almost sure I'd publish my next book as a case-laminate. I didn't like that you couldn't control the color of the digital cloth. Rather, you could choose only between blue and gray.
Since then, IngramSpark has introduced a new option: case laminate plus dust jacket. I'm not a huge fan of dealing with dust jackets myself, but I have to admit, they do make a book look way more "official." Plus, the case-laminate option provides an opportunity to make some fun design variations that contrast the dust jacket with the case laminate. If I'm going to do this, I figured, I might as well go all-out. (You can be sure I'll use my IngramSpark promo code.)
I've designed the dust jacket and case laminate, and have ordered a proof. It will take a few weeks to arrive here in Colombia. If all looks good, I will approve it for distribution, and ta-da, it will be launched. Maybe in time for the holiday season?
Travel interruptions
As I write this report, I'm on a plane back to Colombia, from Phoenix. I won't go into too much detail here, but it was an emergency trip of two weeks, which I had to extend the last-minute for a few more days, as an emergency piled onto the emergency. The situation hasn't calmed down, but I've put some things in place that will help me manage it remotely, from Colombia, where I have a partner who's not even allowed to visit the U.S.
Since my mother died suddenly two years ago, managing my father's health has taken a central focus in my life. It's an ongoing challenge, punctuated by emergencies-piled-on-emergencies like this one. It's a huge productivity-killer, not only because it takes time and an enormous amount of mental and emotional energy, but I also have my own health struggles to deal with, and my EMF sensitivity means I can't just crack open my laptop and work at any moment. Taking care of my dad from another continent doesn't fit too well into the life I've designed, especially when you add in COVID restrictions.
But I'm learning that catastrophes are not an interruption to life. The catastrophes themselves are life. I'm thankful that I have the resources to manage these catastrophes better than I would be able to otherwise. I'm also thankful that I have a catalogue of books, and a solid affiliate-revenue stream, to keep revenue coming while I'm not able to work as much. (But that won't last forever.)
Golf project?
When I decided to start my golf project, my dad's health was looking good for a short time. I had some left over creative energy, and wanted to use it on this project I had been fantasizing about for years.
I've made some great progress over recent months – the first score I shot was 115, and I recently shot 80. But a couple things have changed since starting the project. I've learned what it's like to manage my creative energy while practicing and playing golf, and I've since had more time and energy taken up by taking care of my dad.
I can create articles and newsletters with much less creative energy than before, thanks to my creative systems. But I've still been tinkering with how to stay creative while spending a good deal of time and mental energy on golf. And that's been tricky. There seems to be a minimum amount of reading and writing I need to do to stay sharp enough to write well. Additionally, there are only so many "burners" on which I can keep projects cooking. If I'm thinking a lot about golf, most of that doesn't translate into better thinking and writing about creativity.
So that's been tough to juggle even without spending a lot of time and energy coordinating my dad's care. I've been thinking of scaling back how much time and mental energy I spend on golf, at least until I get better at using said time and energy to take care of my dad, and/or I finish the third book in the Getting Art Done series.
Income
Book Sales
Digital Products
Affiliates / Advertising
| | |
| --- | --- |
| Patreon | $251 |
| Total LYW Podcast | $251 |
Services
Expenses
General
| | |
| --- | --- |
| Accounting | $313 |
| Outside Contractors | $0 |
| Podcast Editing / Publishing | $123 |
| Quickbooks | $36 |
| Total General | $472 |
Advertising
| | |
| --- | --- |
| Amazon | $1,260 |
| Influencer Marketing | $652 |
| Product Samples | $0 |
| Prestozon | $50 |
| Total Advertising | $1,962 |
Hosting
Thinking of writing a book?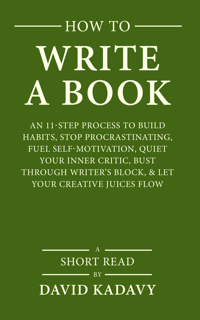 Download your FREE copy of How to Write a Book »
(for a limited time)