Subscribe to blog updates via email »
For this very special 100th episode of Love Your Work: How do you find your calling? I've been trying to get to the bottom of this over the past two years, and I think it boils down to a three-step formula that I'll present in this special episode.
Join the Patreon for (new) bonus content!
I've been adding lots of new content to Patreon. Join the Patreon »
Subscribe to Love Your Work






Listen to the Podcast
Theme music: Dorena "At Sea", from the album About Everything And More. By Arrangement with Deep Elm Records. Listen on Spotify »
Discover
To find your calling, you need to discover what it is you want to pursue. Usually, it seems, you don't just wake up one day and know what it is you want to do. It can come from different sources.
Decide
If you're going to find your calling, you need to decide to pursue it. The chance of success needs to be more compelling than the alternatives.
Do
Once you've discovered your calling, and you've decided you're going to pursue it, you have to actually do it. But how do you break through all of the fear and distractions to make it happen.
Thinking of writing a book?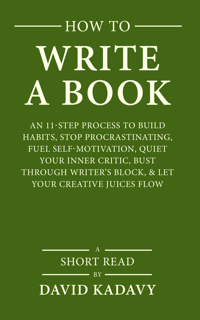 Download your FREE copy of How to Write a Book »
(for a limited time)