Subscribe to blog updates via email »
An audio version of this income report is available to Patreon backers of certain levels »
October's income was $7,564, down from September's $7,795. Profits were $4,171, up from September's $3,869.
Thirteen-month streak of book income records
Book income over the past twelve months was $84,646, which is a record, the thirteenth month in a row!
The $53,715 I've earned in profits from books is also a record, but since I've had heavy ad spend some months, that is not a streak. My $4,476 book profit average over the past twelve months is naturally also a record, with no streak.
Yearly-income record
My overall income over the past twelve months has also been a record: I've earned $110,871 overall in the past year. Given some of the income boosts I expect over the past two months of the year, I expect to have a new record once the year closes out.
Back from 20 Books Vegas
I recently got back from the 20 Books to 50k conference in Vegas. I attended many educational sessions, got some new ideas for promoting my books and growing my business, met great authors and business-owners from a wide variety of genres, and learned about genres I had never thought of – alien romance, anyone?
My main reservation about going to the conference was that 20 Books is highly fiction-focused. It's also highly rapid-release-follow-a-formula-and-write-to-market-focused, which doesn't exactly fit my approach. So, I wondered if I'd learn anything useful or have enough in common with other authors I met there.
That didn't turn out to be a problem. There are common details about the publishing business that I can productively discuss with a, say, reverse-harem author: things like how to promote, how to handle printing and fulfillment, or how to best handle direct sales are issues I'm actively thinking about, and while there's not 100% overlap, there are plenty of ideas we can trade. Plus, I did meet and trade tips with a handful of non-fiction authors.
Meeting internet friends IRL
I also met some authors I had only known through the internet. After listening to Bryan Cohen a million times on the Sell More Books Show podcast, I finally met him in person. I wish I had remembered to take a selfie. Just like when I met Joanna Penn in May, I forgot. I'm not a selfie person (as in I rarely have the urge to take one), but I would've liked to show you.
I did, however, remember to take a selfie with Jeffrey Mason, who is a name you might recognize if you regularly listen to the closing credits of my podcast. Jeffrey is my top supporter on Patreon! I had a long conversation with him about many things, including what drove him to contribute so generously to the show. His Hear Your Story series of journals for collecting family history are very cool and are doing incredibly well (nearly 10,000 reviews on one!). I'm sure he'll sell lots as gifts as the holiday season approaches.
I greatly appreciate all Patreon supporters at every level, but to meet the top one was a real treat.
While I was in Vegas, I also went by Tynan's place and drank a ton of tea. I'm pretty sensitive to caffeine, but the great conversation was worth the hit, and fueled me through a late-night karaoke party.
Trying BookBub Ads again – for Apple Books
The main thing I'm currently pursuing that was inspired by the conference was running BookBub Ads again. Specifically, I'm trying to see if I can increase sales of Mind Management, Not Time Management on Apple Books. As a wide author, it can be overwhelming to think of the dozen outlets and countless countries your books are available. But, I realized now that I make steady sales on Amazon, I may as well focus on one other channel. Apple Books is already my most successful channel outside of Amazon, so that's the obvious choice.
Wish I were Apple Books direct
This is yet another case where I wish I was publishing directly to Apple Books, rather than through PublishDrive – the other case being when I'm running a BookBub deal and want faster access to sales data, or to not have my price changed in time. Alas, I already have ten reviews for MMT on Apple Books, and last I checked, Apple won't migrate your reviews for you if you change the way you're publishing. Not only do I have slightly-delayed sales data, PD will get a cut of my profits.
Testing creatives, smaller authors, high CPM
What am I doing differently this time with BookBub Ads? I'm starting with testing the images. Instead of just having the book cover on the ad, I'm experimenting with related images, or adapting the cover to take up the whole ad. Next, I'm testing which authors' audiences I'm targeting. I'm avoiding really big-name authors, and instead advertising to the audiences of smaller-name authors whose books my readers are also buying on Apple Books. I'm targeting one author and one territory (i.e. U.S.) per ad. I'm bidding a very high CPM – like $30 vs. BookBub's recommended $10 or so – with a low budget of $3 a day. I'm shooting for at least a 3% click-through-rate.
What I've discovered is that the related authors on Apple Books are completely different than the ones I'm used to seeing in my also-boughts on Amazon. It seems obvious in retrospect, but Apple Books readers are different from Amazon readers. Another nice surprise is many of the authors I'm finding on Apple Books, who I haven't heard of before, have audiences on BookBub just large enough that I can effectively run ads. If someone clicks on one of your BookBub ads, they're automatically added to your "audience," so I posit that many of these authors are managing to sell books on Apple Books by running BookBub Ads as well.
Even with these changes and discoveries, I can't say for sure the ads are working well. A 3% CTR is sky-high, and the presenter, Ramy Vance, said he only has luck promoting books for launches. I've only been able to achieve that CTR so far for one ad, for which I merely have about 30 clicks for 1,000 impressions, so there could be some regression to the mean or ad fatigue in the future. But, I'm currently thinking that even if I lose a little money on these ads, going into 2023, I want to make them a part of my arsenal.
While Apple Books is my second-best sales channel, it's still not even close. I've made $513 this year selling MMT on Apple Books, versus $16,438 on Amazon Kindle. I'm sure the $13,000 I've spent advertising MMT on Amazon (all formats) has something to do with that, so maybe it's time to increase ad spend on some other channel. The runner-up channel by the way, is Google Play Books, where MMT has earned nearly $250 this year.
Thinking more about direct sales
The conference also got me thinking more about direct sales. I do make a small amount each month in direct sales through my Payhip store, but I've been thinking about how to sell my hardcopy books directly, too.
BookVault
I visited the BookVault booth at the show. I recognized them from Joanna Penn's podcast. They have a Shopify plugin, and can print and fulfill books on-demand. The fact that they're based in the UK has given me pause, as it would mean books would ship that much slower. The representative assured me they are inserted into USPS within 48 hours – I don't remember if that was after ordering, or after printing. Of course the USPS is pretty awful and slow. But it would at least be an opportunity for those who want to buy direct to do so, with some patience.
Acutrack
Another interesting vendor I met was Acutrack. They print your book offset in large quantities, and handle fulfillment for you. It seems that even printing 2,000 books up-front, though, you're still not saving costs over KDP's print-on-demand. But, quality is perhaps higher and errors are probably more rare. Instead of selling through a KDP account, you sell through an Amazon merchant account (I don't know if that's the formal name). They told me that if you're selling one-hundred or more books a month, there are no warehousing fees. Aside from potential increases in quality (and availability of fancy printing options, such as embossments and gold-leafing), the value play is apparently that you get access to customer data, so I guess you could prompt them to opt-in to your email list.
Oh yeah, COVID
Another thing I picked up at 20 Books was COVID. I shouldn't be surprised. Few people were masked, including myself – aside from while boarding or un-boarding planes.
The timing was impeccable. As soon as I got home, I asked myself, "Do I feel a slight tickle in my throat?" The next day, I was pretty achey. I thought I was just dehydrated from the two-day journey at first. I was about to run an errand, but before took a home test I had lying around, and damn, that came up positive quick. So, I stayed home, and contacted anyone I could think of I had had extended conversations or dinner with.
Thankfully, it's been a mild case, but still not fun. Just as I had friend Nick Gray describe, it was the same feeling as after my booster shot – my body hurt like hell. I went to bed a fevered ball of pain, and my fever broke during that first night and the body aches were gone in the morning. Now it's just been a few days of a slight sore throat, an itchy cough, and a higher-than-normal sleep requirement. Different from my first case, when I didn't have a fever but slept a ton.
I frequently return from long trips, especially to conferences, having picked up some virus. COVID is especially easy to pick up. I honestly don't know if it's worth changing my behavior over, given that I go to a conference twice a year max. I already am careful to stick with my restrictive diet, get plenty of sleep – though probably not enough this time – and I didn't have a drop of alcohol. I had considered going to Chicago for Thanksgiving, but was wary of making plans, unsure if I'd have the energy after the Vegas trip. Good thing I didn't!
20 Books to 50k predictions
Which brings me to my PredictionBook predictions about 20 Books to 50k. I had predicted with 70% confidence that I would not regret going to 20 Books Vegas. I do not regret going – COVID aside, so I turned out to be 70% correct.
I also predicted with 70% confidence that I will not return to 20 Books Vegas for 2023. Directly after the conference, I updated that rating to 40% – in other words that I felt it was 30% more likely I would return next year – 60% likely I would return. It was a fun and informative conference, and a warm and welcoming atmosphere – it reminded me of a more-grown-up version of SXSW circa 2007, when you could talk to pretty much anyone and both be welcomed and learn something.
I made that update to the prediction before I realized I had COVID. That's a factor that could influence my decision – or at least what protocols I follow on the trip – but I haven't felt the need to update that prediction. If it is affected, I don't think by much.
New camera!
I finally received my new camera and lens! I bought a used body of a Panasonic Lumix G7 off ebay, and paired it with a Venus Optics Laowa 17mm (34mm equivalent) prime Micro Four Thirds lens. This I think was the cheapest combination available to have a pro-quality camera I could use as a webcam (with the help of an Elgato CamLink 4K), so long as I was willing to forgo auto-focus and image stabilization.
Here's how the camera compared to the very popular "high-end" webcam, the Logitech c920, both after being compressed to hell by Zoom.
Night and day!
New computer!
But, besides publishing tips and COVID, another thing I picked up in Vegas was a new laptop! Throughout the course of researching cameras, I came to the realization that my laptop was eight years old. This was painfully apparent when I was trying to edit my latest podcast interview, with David Perell, using Descript. My laptop could hardly handle it at all.
So, I picked up a 16" M1 MacBook Pro, 2021 edition. It doesn't have that dumb touch-bar thing, is really fast, and has a nice big screen, which is worth compromising on portability, since cafes aren't a part of my routine any longer – and when they are, it's not with a laptop.
Which is better? FaceTime, Continuity Camera, or a Lumix G7?
And, it so happens, the MacBook Pro has an HD FaceTime camera. And now that I've upgraded to Ventura – which my old laptop couldn't even do – I can also use my iPhone as a webcam, via Continuity Camera. Here's what these three cameras look like, after compressed by Zoom:
I put these up for comparison on social media, and a surprising number of people preferred the M1 MacBook's FaceTime camera. I think they're mostly responding to the exaggerated saturation. The Lumix has the saturation dialed down a bit in this sample, too.
To me it's clear the Lumix has superior optics. I also find disgusting the fake "bokeh" effect from clicking the "Portrait Mode" button for the FaceTime Camera or Continuity Camera. It just looks so obviously fake.
What about without Zoom's compression?
Granted, this is all after Zoom has compressed these images down to 720p. I think the superiority of the professional camera is more apparent when it's merely been compressed down to a PNG that fits in this blog post (after bringing the Lumix's saturation back to baseline):
The FaceTime camera and Continuity Camera handle the harsh lighting on my face better in this case, I still prefer the Lumix's optics. It looks sharper. The main motivation for getting this better camera was for podcast interviews. Most video interviews are done on Riverside.fm rather than Zoom, so they don't get compressed as much.
And some lighting…
Speaking of that harsh lighting, I've also picked up a few simple lights and a mic flag, and now I'm ready to look and sound my best on podcasts.
I still want to work on some of the background lighting.
Wish I could find a headphone solution
One dilemma I have in upping my video podcast game is with headphones. I think with more video media proliferating, headphones are passé. Microphones are possibly passé, but with the mic flag it's at least an opportunity for a branding impression, and an investment in a shotgun mic off-camera is an easy fix.
There are two problems with not using headphones: One is, if the other person's voice is coming out of your computer's speakers rather than headphones, that echo can end up in the recording, and it's bad. The other is that if you aren't monitoring your own voice, you don't always get the best recording. You can get so loud you "clip," without knowing it. I personally get into a state of speaking that strains my vocal folds more than if I had a monitor.
Notice, for example, how perplexed 99% Invisible's Roman Mars is to see this clip from the Bill Simmons podcast, without headphones:
…and as i'm being mauled my last thought will be…people record podcasts without headphones? https://t.co/ia4CP9ADJv

— Roman Mars (@romanmars) October 25, 2022
The first problem of hearing your guest on remote interviews is apparently addressed by Riverside.fm: They have a "no-headphones" option, which allegedly solves the echo issue. I think this is what David Perell was using when we spoke, and there's no echo in his episode.
Invisible headphones for podcasts
The second problem of monitoring your own voice is not so easily addressed without wearing headphones, which are then visible in the shot. So far, I've tried a couple options, and am excited about neither.
One option was to use one or two small Bluetooth earbuds that are "naked" color – if you have light skin like I do. To get a Bluetooth signal from my mixer, I tried hooking up a Bluetooth transmitter, however, the signal is delayed, so half a second after you say something, you're hearing it in your own ear(s). Nope! It's a shame because they fit nicely in my ears and don't draw much attention.
The other option was to use a strange tiny earpiece, possibly intended for nefarious purposes such as cheating on exams. You put an "induction" necklace around your neck under your shirt, plug it into your sound source, and put the tiny earpiece in your ear. The earpiece only works when it's near the induction necklace.
This kind of worked in a short test I did. It could help with monitoring your own voice, but it wouldn't be reliable as a source for clearly hearing the person you're having the conversation with. However, that could be remedied in Riverside by their no-headphones option.
The bigger problem was that the second time I tried it, only minutes later, I got a tremendous amount of feedback in the earpiece. The manual warns that any electronics nearby could cause interference. Things such as a computer and microphone – things used by podcasters. Those things were nearby in my first and second test. I had interference the second time, but not the first. I don't know why.
The still-significant but not-as-big problem was I had a hard time keeping the earpiece in my ear. It may be manageable if I can get it to work reliably without interference.
Hmmm
I wonder if there's some way to hook up the headphone jack monitor from my mixer to my computer? But the mixer itself is an input. Can I have two inputs and use my computer to broadcast a bluetooth signal?
I've since ordered a pair of these wired headphones, which apparently Michael Hyatt uses. It would have the added benefit of being a mostly foolproof wired connection, rather than Bluetooth or whatever the heck that tiny earpiece uses.
Practicing video chops on TikTok
So far, I've gotten to use my new camera and lighting on a couple podcast interviews (neither out yet). Meantime, I'm having fun using my new equipment and practicing my video chops on TikTok. Here's a recent one:
@davidkadavy Time management is over. Frederick Taylor started time management by programming humans as if they were robots. Here you can see he figured out how many laborers using what shovels loaded with the optimum amount of dirt would make the most profit, given time invested. Fast forward 120 years, and many of us still think of productivity this way: As if a unit of time gets a unit of productivity. You can type a book in a day. But to write a book takes months or years. You need ideas worth typing first. To be relevant as humans, we need to do what humans are good at: being creative, having ideas, creating our art. And how many times have you had your most valuable ideas during a vacation, while on a hike, or just after a massage? Time management is over: As the great sculptor Constantin Brancusi once said, "Things are not difficult to make; what is difficult is putting ourselves in the state of mind to make them." #timemanagement #creativity ? original sound – David Kadavy
Along the way, I've discovered tools like CapCut, which generates automatic captions and has a library of little animated icons. However, I may have settled on sticking with Final Cut Pro, using Captionator for captions. I'm more comfortable with it, and know lots of keyboard shortcuts that shorten my editing time. Haven't found a replacement for the animated icons yet.
I'm also syndicating these short videos to Instagram Reels and YouTube Shorts (funny, I haven't even thought about Snapchat).
By the way, TikTok insists that because I live in Colombia clearly the only people who could be interested in my videos must be Colombians (even if I use a VPN to change my location). So, the algorithm could use some help. If you haven't followed me yet, please do! (Even if you're Colombian.)
Why am I doing videos?
Something is really going on in my brain as I work on these. It's great to have years' worth of content that I know works to some degree or another. It makes the extra work of videos feel more worth it. I'm feeling slightly obsessed with video production and editing lately. But, I'm not seeing quick success with these, so that may dampen some of my enthusiasm soon.
I've deliberately avoided doing much with video the past several years, because video is one decision that forces you to make a thousand decisions, and that's death if you don't already have something worth saying. I genuinely feel it's a useful exercise as a writer to adapt your messages to various media. I find I really have to simplify what in my mind is complex to make a TikTok video.
However, I feel I have assets to bring to presenting more of my ideas in video. Through recording countless LYW episodes, my delivery has improved – helped along by improv, acting, and voice lessons I took when I lived in Chicago. Editing these short clips effectively feels fairly natural for me. I've had false starts with video in the past – is this time different? Amongst the purchases I've made is a small teleprompter, so that will wear down one sticking point.
I'm strongly considering making video-based versions of future Love Your Work podcast essays. That one little decision calls for lots others about post-production process, graphics, music, credits, etc. So I'll probably merely experiment with a couple at the start of the 2023.
Isn't TikTok idiotic?
Surely some of you are thinking, "Isn't TikTok idiotic?" I certainly agree if you go based upon first impressions. But if you aggressively train the algorithm with "I'm not interested" on the stupid stuff, while liking, commenting upon, or saving the interesting stuff, there is some good content there.
It's also interesting to see how aggressively creators such as Mark Manson, Ryan Holiday, and Simon Sinek are using TikTok. They are not dumb.
MMT two-year sales progress
When I made predictions about the sales of Mind Management, Not Time Management, I didn't make two-year predictions, but I did make one-year and three-year predictions.
In my most conservative estimate, I was 50% confident I'd sell more than 5,000 and fewer than 15,000 copies after one year. I was 50% confident I'd sell more than 20,000 and fewer than 50,000 copies after three years. Now that two years have passed, I've sold a little more than 23,000 copies. If I extrapolated that onto my graph, it would look about like this.
I've gotten further away from my lower bound, and closer to approaching my upper bound. On the way, way upper bound, I was 90% sure I'd sell fewer than 250,000 copies in the first three years. That's a lot of copies, but there's still one year left of potential positive Black Swans to prove myself wrong.
ActiveCampaign money on the way
ActiveCampaign had stopped paying me for my previous referrals, but I talked to them and got it straightened out. They said I'd start receiving payments, but the payments still got backlogged. I can see now that they owe me about $5,000. So, once again, there are no payments from ActiveCampaign in this income report, and there won't be in November's report either. But there should be a nice payment to close out the year in December's report.
Significant payment from Alliance of Independent Authors
A nice payment of $958 from the Alliance of Independent Authors is keeping my affiliate earnings afloat this month, as I await payment from ActiveCampaign. I think I make most of my referrals to ALLi via my IngramSpark promo code page. If you publish books through IngramSpark, ALLi's promo code for free uploads and revisions recoups your membership costs quickly.
Gave away 20 creativity books
There is an expense of $315 under Advertising this month for my cost of giving away what I think are the 20 best creativity books. Congratulations to Katy M.!
The promotion did grow my Love Mondays email list from about 7,250 subscribers to about 7,450. However, many of those were folks that opted in from my existing Design for Hackers list. I didn't make any PredictionBook predictions, but I wouldn't call the promotion a smash-hit in terms of growing my email list.
Where are these other expenses?
I've bought new camera equipment, a new computer, and gone to a conference in Vegas. You may be wondering, where are these expenses? Generally, I don't include equipment or R&D in these reports. It's too complex from an accounting standpoint to bother trying to amortize those expenses so their impacts are accurately reflected in reports like these.
Thank you for having me on your podcasts!
Thank you for having me on your podcasts! Thank you to J Thorn at the Writers, Ink podcast!
Income
Book Sales
Digital Products
Affiliates / Advertising
| | |
| --- | --- |
| Patreon | $214 |
| Total LYW Podcast | $214 |
Services
Expenses
General
| | |
| --- | --- |
| Accounting | $594 |
| Outside Contractors | $0 |
| Podcast Editing / Publishing | $163 |
| Quickbooks | $45 |
| Total General | $802 |
Advertising
| | |
| --- | --- |
| Amazon | $1,942 |
| 20 Creativity Books Giveaway | $315 |
| Total Advertising | $2,257 |
Hosting
Thinking of writing a book?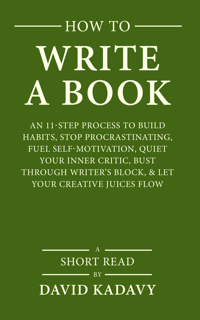 Download your FREE copy of How to Write a Book »
(for a limited time)