Subscribe to blog updates via email »
May revenues were $2,302.81, down from April's $4,023.66. Profits were only $1,324.23, down from April's $2,707.36.
Things were looking good back in March, when I had the highest-revenue month in two and a half years. I was also coming off a breakthrough improvement in my health. But, we're back into some "scarily bad" numbers. In fact, May was the worst month, in both revenue and profit, since I started publicly reporting income at the beginning of the year.
Part of this is to be expected given where much of my revenue comes from: I wasn't doing any big course promotions in May. Part of it is the nature of cash-based accounting: Some things that are happening now aren't yet reflected in the revenue numbers. Part if it is due to some chaos in my living situation.
And yes, my health is still an ongoing challenge. The treatment regimen I'm on has me feeling crappy sometimes, though I'm improving bit by bit and have more frequent periods of simply feeling awesome.
Mid-April through mid-May were chaotic. Something that comes with the territory of living in another country is you sometimes have to struggle just to keep your body where it is.
I won't get into it too much, since I described the situation more in-depth in my April report, as well as elsewhere. Long story short I had to do some emergency travel a couple of times, along with the stress of having my living situation up in the air. It continues to be a stressor since I'm now in Colombia on a tourist visa, and have to watch the number of days I spend in the country. I'll have to do some traveling that I wouldn't have otherwise in order to abide by Colombian immigration law.
First audiobook proceeds of How to Write a Book
This month marks the first proceeds of the ACX (Audible and iTunes) audiobook for How to Write a Book. The audiobook brought in $19.63. The other formats of Kindle and Paperback continue to bring in more money than I ever expected. I also made $54.89 back in March by selling the MP3 files, before signing off the rights to ACX.
In all, I've made over $800 from the various formats of the book, which is infinitely more than the $0 I made from the blog post, also called How to Write a Book.
"Wide" The Heart to Start sales picking up
Non-Amazon sales of The Heart to Start picked up in May. They totaled $26.43 in April, and $96.63 in May. To be fair, I may not be reporting this category appropriately. Let me explain.
The decision between having your book "wide" or Kindle Unlimited usually involves deciding what kind of ebook sales you can expect outside of Amazon. If you choose to have your book in the Kindle Unlimited program, that means your ebook can only be on Amazon.
So I might not be reporting this category appropriately because it also includes paperback sales of HTS that don't take place on Amazon. I had a "big" order come through on IngramSpark, which is my paperback distributor outside of Amazon.
Having HTS available on paperback outside of Amazon in no way precludes me having the book in KU. KU exclusivity only applies to the ebook version.
To break it down appropriately, IngramSpark proceeds were $83.36. iBooks proceeds were $13.19. Google Play and Draft2Digital (which distributes to Kobo, B&N and everywhere else) were both a big fat zeros.
Holding my breath on "big" IngramSpark order
I was pleased to see the "big" order come through IngramSpark, but I'm holding my breath on that one. It looks like there might have been one bookstore in the US that ordered a handful of copies. The terms I have set up on IS allow for returns. This is apparently the only way that many bookstores will order books.
I have yet to experience what happens when a bookstore returns your books. From what I can gather, it can cost you money. So, I'm waiting and seeing. I'm actually curious to see what returns look like, so it wouldn't be the worst thing if there were some books returned.
Book pricing promotions and a big quandary
I mentioned in April that I'd be doing a Booksends promotion of HTS, as part of my learning process of investigating a potential Bookbub and "ad stacking" run at a best-seller list – likely for a future book.
I did this Booksends promotion after doing an experimental promotion of WAB, wherein I spent $40 to sell about 40 copies of WAB at 99¢ (with a 35% royalty). I hypothesized HTS would do better as a 99¢ promotion because it had way more reviews, and a much higher list price.
I was wrong. I spent another $40 on a Booksends promotion, and priced HTS at 99¢. I made only 13 sales. So, I spent $40 to make $4.55.
One problem may have been that I planned the promotion on a Friday. That's a bad day for a promotion. It probably would have done better on a Tuesday. But that much better? I doubt it.
Another thing I've learned is that it's probably wiser to do these pricing promotions when you're doing a "Kindle countdown deal." Your book has to be in KU to do one of these deals. You get one per ninety-day KU term, and you can discount your book for up to five days. The reason this is better for pricing promotions is that you can discount a $2.99 book to 99¢ and stay at the 70% royalty rate. So you're getting about 70¢ per 99¢ sale, instead of 35¢. Still, even my WAB promotion wouldn't have been profitable with these terms.
After an initial rejection, ineligible for a Bookbub promotion
I re-applied for a Bookbub promotion for HTS, and was told I was ineligible. It turned out that one-day 99¢ promotion I did disqualified me for a Bookbub promotion. When you do a Bookbub deal, it has to be the lowest price offered within the previous ninety days.
Also, did you notice that I made some sales on iBooks? I wonder if this is related to the fact that I did a 99-cent iBooks promotion in the beginning of May. Those sales didn't amount to much, but maybe that helped bump it up in some algorithms? Aside from that, my "wide" ebook sales were literally zero.
So I'm in a quandary: I'm not making "wide" sales, so I might as well be in KU. But I'm wide because I wanted to go for a Bookbub promotion. But to do a Bookbub promotion, I can't do any other pricing promotions for three months solid. But pricing promotions might help me make wide sales. Add to that that there's no guarantee that HTS would be accepted to a Bookbub promotion at all if I were to put a moratorium on pricing promotions of HTS.
You can see why so many authors agonize over the wide vs. KU decision. Maybe I'll try this: Maybe I'll go ahead and run some pricing promotions, but stop them in time to apply for a Bookbub promo that would launch in Self-Help season: January. Maybe that's what I'll do. I have to think it through.
The War of Art + The Heart to Start Giveaway
In the meantime, I do have a giveaway going on. Steven Pressfield himself gave me some copies of The War of Art to give away to my audience. The Heart to Start happens to be a great companion to The War of Art, so I'm giving away ten bundles of the two books.
My hope is that by doing this giveaway, it will help nudge HTS up in Amazon's "also boughts" to WoA. We'll see though. Sign up over here to be eligible to win.
I slacked off on Medium's parter program
I made very little from Medium's partner program in May, a little over $30, because I didn't post many articles to the partner program. What I often do is simply re-post an article that was once available freely in the past. That often brings in some money. But, I have to have the presence of mind to do that extra bit of work, something I didn't have amongst the travel interruptions.
Love Your Work is picking up
My creative entrepreneur podcast, Love Your Work, is starting to bring in more money. The downloads haven't grown in two years – in fact they've dropped in recent months – but I'm seeing more engagement from the listeners I have, and I'm seeing more interest from advertisers.
That engagement and interest isn't reflected in May's income report. My Patreon backing has nearly doubled, to $258 a month. Almost all of my ad inventory is sold out in this current month of June. I currently have Skillshare, Weebly, and Earth Class Mail (promo code "LOVE") as sponsors. Be sure to support them if you like the show.
Neither this Patreon growth nor this sponsorship growth these are yet reflected in May's revenue. But some of that money has been coming in in June. If these things keep up, Love Your Work will be firmly profitable. The revenue won't be a ton, but it's better than breaking even or losing money.
Mysterious miscellaneous royalties
I made "miscellaneous" royalties of $84.50 in May. This is from one of many early experiments that I did in passive revenue more than ten years ago. I created several stock illustrations and submitted them to stock websites. I occasionally make a little money from these on Shutterstock. I've made a little over $600 in the past ten years on these illustrations.
This month I received a payment of $84.50 for these images from a site other than Shutterstock. I actually don't even remember which site it was! But I believe it was a site that iStockPhoto purchased and then shut down. I didn't even know I had a balance!
I haven't made a lot of money on these illustrations, especially when you consider how much work they were (a moderate amount) and how long it's taken for me to make $600 on them (ten years!). But it's all a part of experimenting. I do still continue to earn a small amount from these illustrations, so who knows how long that could last, or how much I could eventually earn?
Affiliates and content marketing picking up
Speaking of slow growth over a long period of time, I'm currently seeing a pick-up of affiliate revenue across all properties.
I'm seeing sign ups come in from my create WordPress blog tutorial, which promotes a Hostgator free trial coupon. I'm also seeing sign ups come in from my WP Engine review, which promotes a WP Engine coupon. I also recently saw a second-tier affiliate commission come in from someone who signed up for the WP Engine affiliate program using my link. (If you sign up for WP Engine's affiliate program, you earn at least $200 per new customer, and I earn $50 – at no detriment to your earnings.)
Even my Match.com 3-day free trial is bringing in money after being dormant for a very long time.
I don't know how or if these things could be connected. They're all happening on different domains. It could be that my entire portfolio of sites somehow grew in domain authority. Maybe it's connected to Google's recent updates. Maybe it's just a coincidence. Whatever it is, I like it, and I'm following up on it.
Less focus on ads, more focus on content
I spent much of the past six months learning about paid ways of selling products, specifically my books. AMS Ads are so far the only clear winner. The ROI isn't killer though. It sucks to get excited about selling $700 of books, only to find out you spent $500 on ads to make those sales. It would be nice to spend $50,000 to sell $70,000, but unfortunately it hasn't scaled in that way.
I've been very interested in data privacy lately, and it's making me think more about ad technology. I'm coming to the realization that much of this ad tech on the web may just be a scam: They make it sound fancy, but advertising doesn't have to be that complicated. B.J. Mendelson's Privacy is a good overview of this idea.
A day of reckoning coming for online advertising?
When I consider that people are becoming more aware of how they're being tracked online, with things like the Cambridge Analytica scandal and Europe's GDPR, it starts to look like online advertising is in a bubble, and that the day of reckoning is coming.
I'm thinking about exploring this topic more on my podcast, but for now I'm doing most of my web surfing on an anonymously-purchased VPN, I'm doing much of my browsing on Brave or Tor, and I'm using Little Snitch to block much of the tracking that has been sucking up my system resources.
By the way, a great resource for learning how to protect your privacy is The Complete Privacy and Security Podcast. Though it can be overwhelming at times, you can cull out what matters to you according to your "threat model."
It will be all for the better for me if a day of reckoning does come for the more creepy styles of tracking people online. After all, this is what I've been trying to figure out the past couple of years: I want to make money from the things I create. I don't want the things I create to merely be a marketing ploy for selling some other thing.
Great SEO-friendly content, with passive income
It hasn't been useless for me to experiment with ads. I'll still keep running and monitoring my AMS Ads. But, I'm returning to concentrating on "content marketing," with a focus on making great SEO-friendly content – a plus if it will bring me passive affiliate revenue.
After all, content marketing is what I have to thank for most of the success I've had. It's what built the passive revenue streams I used to free me up to explore. That passive revenue helped me arrive at the idea for Design for Hackers, and it helped me focus on writing it.
I've recently released some SEO-friendly content focused on bringing in passive revenue with my new AWeber Review. I spent some time building the proper links up between that and my ActiveCampaign vs MailChimp comparison, as well as my ConvertKit vs ActiveCampaign comparison. I even started optimizing an ActiveCampaign free trial coupon page that I had been neglecting.
I also spent some time linking to my important articles from within my portfolio of sites. I've also rolled out some new affiliate content with a Freshbooks free trial, and I included some content about Treehouse Techdegree on my Treehouse Free Trial.
Don't hold out for the perfect "system"
I think I put off taking care of my content and affiliate streams because I was concentrating on other things – which is totally okay. But I also put it off because of something I do often: I was holding out for having some kind of a "system."
I love that managing a podcast can be reduced to a repeatable system, and I keep hoping I can find something like that for managing my content marketing and affiliate revenue. But it's hard for a system to emerge if I'm not at least doing the work in the first place. As a result, my content marketing gets neglected. I'll often revisit some content, only to realize that something is severely broken about it, and I've missed out on a bunch of revenue.
So, I'll simply make it more of a focus. I'll put in the time, and while I'm at it, I'll think about how to systematize it.
The long game of content
One reason it's hard to work on content marketing is that it takes an extremely long time to pay off, if it pays off at all. In my experience, it takes a year or more for a great piece of content to start paying off. One example for me is my video on how to do laundry in the sink, which I released six years ago. It's not an important piece of content to me, but it's fun to watch it grow. That little bit of AdSense revenue you're seeing come in is likely almost entirely from that video.
I'm seeing the same thing happen with "how to learn web design" which is beginning to rank on the first page for "learn web design." I hope the same thing happens more quickly with how to write a book. Hopefully it won't wind up being a loser, like is so far the case with the should you make your bed, and find your calling episodes of Love Your Work (which, by the way, now ranks on the first page for love your work).
In the course of writing these income reports – as is probably obvious from all of my links – I'm also realizing that these reports are great opportunities to build links to your content marketing.
New STEEM book: Make Money Writing on the STEEM Blockchain
I recently launched a new STEEM/Steemit book. Make Money Writing on the STEEM Blockchain is my third book in only six months.
You'll see the sales in next month's report. They certainly aren't sky high. I see this book as kind of a "Black Swan" play. I now have this book out there in the wild about a technology I'm excited about. If that technology takes off, the book could be good for me. It's already been a topic of interest in a recent podcast interview of me.
Promotion coming
There are a couple of promotional opportunities coming soon for me. I've recently done podcast interviews on Jeff Goins's The Portfolio Life, and The Creative Penn.
I've appeared on quite a few podcasts before. I always hear that it's some great promotional opportunity, but I have yet to see a podcast appearance really affect book sales or podcast growth. I get the sense that these two appearances might be different.
I sense that my work will appeal to Jeff and Joanna's audiences – and they both have much bigger audiences than mine. I felt that both interviews went well. I particularly enjoyed Jeff telling me he thought I was an "underrated thinker." Being underrated isn't great, but having Jeff think I'm underrated is great.
I believe my appearance on The Creative Penn will be coming the first Monday in July, and my interview on The Portfolio Life should come out July 18th. I'm eager to see if these appearances help.
Want to learn about self publishing?
My recent article on 24 things I learned publishing 3 books in only 6 months is doing very well. Fittingly, I'm thinking of self publishing a book on…how to self publish a book. Would that interest you? I'm thinking of some ways I can help people self publish their books as part of my writing process.
If that sounds interesting to you, make sure you're subscribed to my "Getting Art Done" list.
Income
Gross income was $2,302.81 (down from April's $4,023.66). Net profit was $1,324.23 (down from April's $2,707.36).
Book Sales
Digital Products
Affiliates / Advertising
Love Your Work podcast
| | |
| --- | --- |
| Patreon | $128.10 |
| Total LYW Podcast | $128.10 |
Writing
| | |
| --- | --- |
| Medium | $31.96 |
| Total Writing | $31.96 |
Miscellaneous Royalties
Expenses
General
| | |
| --- | --- |
| Accounting | $270.00 |
| Podcast Editing / Publishing | $240.00 |
| Outside Contractors | $127.27 |
| Total General | $367.27 |
Advertising
| | |
| --- | --- |
| Amazon AMS | $383.56 |
| BookBub | $1.61 |
| BookSends | $40.00 |
| Facebook | $114.00 |
| Goodreads | $10.00 |
| Total Advertising | $549.17 |
Hosting
| | |
| --- | --- |
| Genius Link | $10.00 |
| WP Engine | $27.00 |
| Namecheap | $25.14 |
| Total Hosting | $62.14 |
Thinking of writing a book?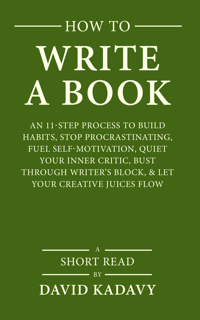 Download your FREE copy of How to Write a Book »
(for a limited time)